Air Receiver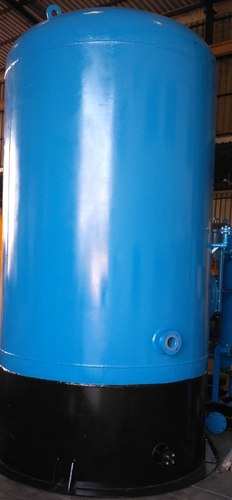 Air Receiver
Product Description
Offered Air Receivers are sometimes known Compressed Air Tanks, which suffice as the integral parts of any sort of compressed air system. The primal function of these is to serve as the temporary storages that can accommodate the peaks of demand your system. Also, these can optimize the running efficiency of all plants. The installation of these enable the increment in loading as well as unloading cycles on the compressor. These vessels or tanks are employed to keep compressed air before it get into the equipment or piping system. In simpler terms, these suffice as the buffer mechanisms between the fluctuating pressure and compressor. These Air Receivers can be utilized to cut down the pressure fluctuations that can make an impact on the process of production.
FAQs of Air Receiver:
Q: What is an Air Receiver?
An Air Receiver, otherwise called an air stockpiling tank or packed air tank, is a strain vessel intended to store compacted air created by an air blower. It settles and direct strain vacillations in a packed air framework.
Q: Why are Air Receivers utilized in compacted air frameworks?
Air Receivers fill various needs, including giving a repository to putting away packed air, hosing pressure floods, permitting dampness and impurities to settle, and decreasing the cycling recurrence of the blower.
Q: How does an Air Receiver function?
Compacted air from the blower is put away in the Air Receiver, and as interest for packed air fluctuates, the receiver supplies the air to the framework, keeping up with stable tension levels.
Q: Where are Air Receivers regularly utilized?
Air Receivers are utilized in a large number of ventures and applications, including producing, development, auto, food and drink, substance handling, and air conditioning frameworks.
Q: What are the advantages of utilizing an Air Receiver?
Benefits incorporate superior blower effectiveness, diminished energy utilization, better tension control, decreased wear on blower parts, and upgraded in general framework execution.