Heat Reactivated Type Dryer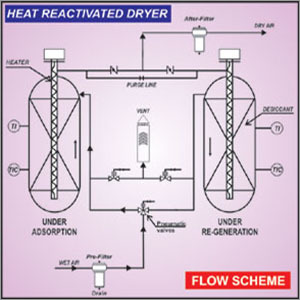 Heat Reactivated Type Dryer
Product Description
We have garnered a rich clientele in the domain by successfully offering stellar quality Heat Reactivated Type Dryer. This is used when one needs air of very low dew point. The offered dryer is manufactured by making use of ultra modern technology and quality assured materials. In this design desiccant is regenerated at higher temperature with little dry air purge. Furthermore, the offered Heat Reactivated Type Dryer can be availed from us at industry leading prices.
Features of
Heat Reactivated Type Dryer
:
Excellent performance
High speed working
Needs low maintenance
FAQs of Heat Reactivated Type Dryer:
1. What is a heat reactivated type dryer?
A heat reactivated type dryer is a type of compacted air dryer that eliminates dampness and stickiness from packed air by utilizing outer heat to recover the desiccant material that adsorbs the dampness. This interaction includes two pinnacles or beds, where one pinnacle dries the air while the other recovers the desiccant.
2. How does a heat reactivated type dryer work?
A heat reactivated dryer works utilizing a twin-tower design. Compacted air enters one pinnacle, where the desiccant material adsorbs dampness. In the interim, the other pinnacle recovers the desiccant by passing a heated progression of air through it, eliminating the adsorbed dampness. The pinnacles switch jobs consistently to keep a nonstop inventory of dry air.
3. What are the upsides of utilizing a heat reactivated type dryer?
Heat reactivated dryers offer a few benefits, including:
Lower energy utilization contrasted with heatless dryers because of outside heat recovery.
Lower air misfortune during recovery contrasted with heatless dryers.
Lower working expenses when contrasted with some other drying techniques.
4. What are the limits of heat reactivated type dryers?
Constraints of heat reactivated dryers include:
Higher introductory venture contrasted with heatless dryers.
Complex plan with extra parts for heating and recovery.
Restricted applications for high-temperature or touchy cycles.
5. Where are heat reactivated type dryers utilized?
Heat reactivated dryers are utilized in different enterprises requiring great dry air, for example, drugs, food and drink, hardware producing, and basic cycle applications.