Oxygen Gas Analyser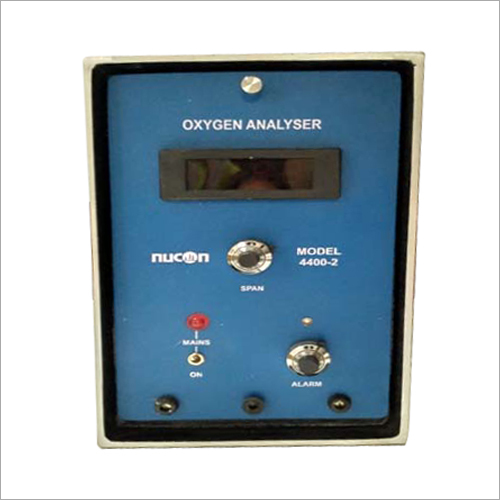 Oxygen Gas Analyser
Product Description
With the help of our team of technical experts, we are engaged in manufacturing and exporting outstanding quality Oxygen Gas Analyzer. Our wall-mount Oxygen gas analyzer with complete sample system provides you with comprehensive analysis capabilities. It functions at an optimum level in Class I, Division I, and Groups B, C, D applications in a flammable gas to a UL standard 913-88. Our experts test this prior to dispatch from our end to ensure its hassle free performance at customers end. Moreover, this Oxygen Gas Analyzer is easy to handle and to transport. It is used by the chemical, medical, metal-working, aerospace, and water treatment industries.
Features of Oxygen Gas Analyser:
Trouble free performance
Negligible maintenance
Less service life
FAQs of Oxygen Gas Analyser:
1. What is an oxygen gas analyzer?
An oxygen gas analyzer is a specific instrument intended to quantify and screen the centralization of oxygen (O2) in a gas blend. It gives precise and continuous data about the oxygen levels in different applications.
2. Why is estimating oxygen focus significant?
Estimating oxygen focus is pivotal for wellbeing, quality control, and cycle improvement in different businesses. It guarantees consistence with guidelines, forestalls dangerous circumstances, and keeps up with item quality.
3. What businesses use oxygen gas analyzers?
Oxygen gas analyzers are utilized in many ventures, including synthetic, petrochemical, drug, natural, clinical, food and drink, aviation, and that's only the tip of the iceberg.
4. How does an oxygen gas analyzer work?
Oxygen gas analyzers utilize different sensor innovations, for example, paramagnetic, zirconia, and electrochemical sensors, to quantify oxygen levels. These sensors respond with oxygen in the gas test and produce a sign that is changed over into a fixation perusing.
5. What kinds of oxygen gas analyzer sensors are there?
Normal sensor types incorporate paramagnetic sensors, which utilize the attractive vulnerability of oxygen; zirconia sensors, which depend on oxygen-particle conductivity; and electrochemical sensors, which include redox responses.
Trade Information
Australia North America Eastern Europe Middle East Western Europe Africa South America Asia Central America

All India