Heatless Air Dryer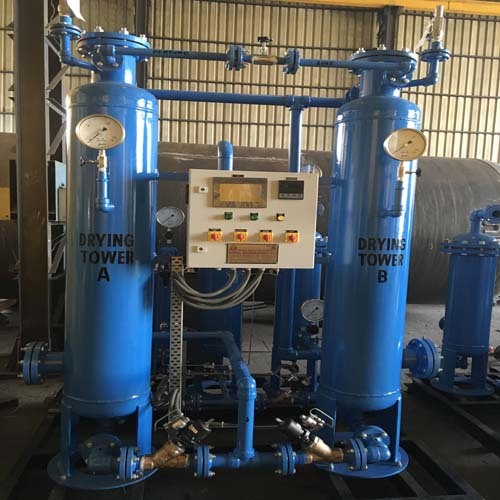 Heatless Air Dryer
Price And Quantity
Product Specifications
Product Description
Heatless Air Dryer
Our strict quality controllers keep a close watch on the production process so that we can provide impeccable range of Heatless Air Dryer. Easy to install, this is the simplest way to provide a factory with clean, dry compressed air. With very few moving parts, heatless desiccant dryer is extremely reliable and require little maintenance. In accordance with industry norms, the offered dryer is precisely manufactured by our team using optimum quality materials. Moreover, this Heatless Air Dryer can be availed from us at affordable prices.
Features of Heatless Air Dryer:
High in functionality
Longer service life
It uses purge air to regenerate one tower while the other tower is in use.
Our Range of Dryer
Heatless Air Dryer
Heat Reactivated Dryer

Working Principle of Heatless Air Dryer

In Heatless Air Dryer two adsorber towers filled with Activated Alumina / Molecular Sieves to absorb the moisture present in the wet compressed air. Wet incoming compressed air or gas is passed through an adsorber tower where moisture is adsorbs to achieve better dew point. The dry air comes through the top of tower. After some time of operation activated alumina needs regeneration. Reactivation or regeneration of activated alumina is necessary to drive off the adsorbed moisture and to restore its absorptive capacity. This is accomplished via purging the adsorbent by dry air or gas at atmospheric pressure and temperature in reverse direction. The purge loss in around 10% of dry air. Changeover will take place through PLC/Timer and continuous dry air will be received at outlet.

DRYER WITH ONLINE DEW POINT TRANSMITTER:-

PURGELOSS of 10% is reduced up to 5% by integrating online dew point transmitter to the Sequential programmer. Drying Tower changeover takes place when dew point goes down the desired limit which results in huge saving of purge air.

Salient Feature of Heatless Air Dryer
Simple design filled with Activated Alumina as drying desiccant
Capacity from 25 SCFM to 2500 SCFM
Dew Point Range (-) 40 to (-) 60) Deg c
Pressure Range 5 to 15Kg/cm2g
Power consumption is only 60Watt to operate Solenoid Valve
Long Desiccant Life
Low initial cost & operational cost
Requires no maintenance
Skid mounted modular design
Application
Chemical
Pharmaceutical
Pneumatic Tools
Painting Booth
Pneumatic Control System
Automobiles
Technical Specification
MODEL

Connection

Nominal Volume Flow rate

Dimensions

Inlet / Outlet

Inlet

Outlet

Length

Width

Height

SCFM

SCFM

HL-50

25

50

45

800

600

1800

HL-100

25

100

90

1000

900

1900

HL-150

40

150

135

1100

1000

2000

HL-200

40

200

180

1200

1200

2100

HL-250

40

250

225

1500

1400

2150

HL-300

50

300

270

1500

1400

2200

HL-400

50

400

360

1500

1400

2200

HL-600

50

600

540

1800

1600

2200

HL-800

65

800

720

2200

1800

2200

HL-1000

80

1000

900

2200

1800

2200

HL-1200

80

1200

1080

2500

2000

2200

HL-1500

100

1500

1350

2500

2000

2200
| | |
| --- | --- |
| Volatage Frequency | 230V AC, 50/60HZ |
| Power Consumption | 60 Watt |
| Protection Class | IP 65 |
| Filter (Inlet) | 3 Micron |
| Filter (Outlet) | 1 Micron |
| DP Based Control | Optional |